Portage, MI Children's Dentist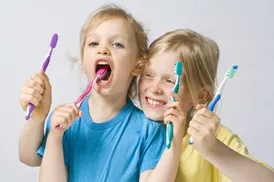 We are honored to provide dental care for children of all ages beginning at 12 months. We strive to ensure your child has a fun and positive experience at our office. When your child arrives they have their own reception area with cartoons, video games, and plenty of toys. Each dental chair has a separate television monitor with cartoons (approved by Mom and Dad of course). All of the "Good Helpers" get a prize at the end of their appointment. We also have a No Cavity Club that the kids just love.
Importance Of Seeing A Children's Dentist

As your child grows, maintaining good oral health is essential to their physical development. Kids should see their first dentist by the age of 1, when the teeth first begin to appear, to promote healthy teeth and gums, and to monitor chewing, digestion, and speech development. As kids grow older, regular visits to the children's dentist will encourage an awareness of proper dental hygiene, the link between diet and cavities, and injury prevention. Nothing is more precious to you than your child's smile; it is important to give it the right start.
At our office, we know that your child's teeth are important to you, and we are as committed to their total health as you are! Infants, children, and teens all require different education and care to promote oral health and avoid future dental problems. It is never too early to pave the way for a lifetime of healthy teeth and gums for your family; every stage of life presents new challenges.
At Cohrs Family Dentistry, our team of certified professionals provides:
Preventative treatment, as well as tips on teething and brushing for babies and infants
Regular preventative visits, orthodontic assessments, custom-fitted sports mouth guards, and emergency care for kids
Reinforcement of good oral hygiene, preventative treatment, and cosmetic consultations for teens and young adults.
We strive to make your child's dental health as much as their passion as it is ours!
Preparing for Your Child's First Dentist Visit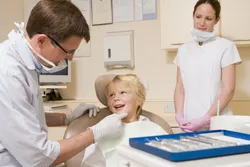 Our priority at Cohrs Family Dentistry is to forge with your child a lifelong commitment to oral health. Your kid's first visit is our first opportunity to screen for cavities and other potential problems. We can also give your tips on how to care for your baby's teeth and answer any questions you may have. Starting early is important to nurturing a positive experience with the children's dentist in years to come.
To prepare your child for his or her first visit, try playing the "kids dentist." Count your child's teeth, and have them count yours. Explain that the children's dentist might take some pictures of their teeth with a special camera. A great way to introduce your baby to the office environment is to take your child along with an older sibling or friend when they go for a routine check-up. The most important thing is to treat the appointment as routine. This prepares your baby for what should become a lifelong habit.
The goal of our dentist, hygienists, and office staff is to make your kid's experience as positive as possible to ensure that every child we treat grows up with a healthy smile and the education they need to maintain good oral health and prevent disease.
Contact Us or Make an Appointment

While choosing a dentist for your child, you likely have many questions. We invite you to browse our website, and if further questions arise, click on the link to contact us. You can also email us at [email protected] or call (269) 382-3125 to ask questions or book an appointment.

Looking for a friendly and experienced Children's Dentist in Portage, MI?
Call Cohrs Family Dentistry at (269) 382-3125 to book an appointment!